COMPANY
PT. Bintang Sakti Sentosa is a distributor company that provides wood-based sheets or as known as Plywoods and other complementary products in building material. Our products range from Plywood, Fancy Plywood, MDF, Block Board, Melamine Board, other types of wood-based sheets, HPL, formica, glue and nail. We are serving local market in all Indonesia area.
Bintang Sakti always prioritizes quality and commitment to customers and suppliers. Growing that mindset in the organization, our quality and commitment have gained trusts and good cooperation with our business partners. It has been proven by our customer base all around Indonesia, and also our partnership with several Plywood factories in Indonesia.
All of our products are made in Indonesia, as the country is one of the biggest manufacturer and exporter of high quality plywood. We believe although the supply of wood is limited and substitute product appears, the demand of plywood will still be there in the market and even more demanding in the future due to its limited resources. The reason why is because the art and aesthetic value which incomparable to an engineered or artificial material that produced to substitute a real and natural wood products.
---
PERUSAHAAN
PT. Bintang Sakti Sentosa adalah perusahaan distributor yang menyediakan panel kayu yang biasa disebut dengan Triplek/Multiplek dan juga produk pelengkap lainnya dalam material bahan bangunan. Produk kami terdiri dari Triplek, Triplek Motif, MDF, Blockboard, Melaminto, jenis panel kayu lainnya, HPL, lem kayu, dan paku kayu. Kami melayani penjualan untuk semua market domestik di Indonesia.
Bintang Sakti selalu mengutamakan kualitas dan komitmen untuk pelanggan serta supplier. Bertumbuh pada pola pikir itu dalam perusahaan kami, kualitas dan komitmen kami sudah mendapatkan kepercayaan dan kerjasama yang baik dengan partner bisnis kami. Hal tersebut sudah terbuktikan dengan basis pelanggan kami di beberapa daerah di Indonesia, dan juga kerjasama kami dengan beberapa pabrik triplek besar di Indonesia.
Semua produk kami dibuat di Indonesia, yang dimana adalah negara yang merupakan produsen dan eksportir triplek berkualitas tinggi. Kami percaya walaupun pasokan kayu terbatas dan produk subtitusi mulai muncul, kebutuhan untuk triplek akan selalu ada di pasar dan mungkin akan lebih tinggi di masa depan dikarenakan kelangkaan bahan bakunya. Alasan utamanya adalah karena nilai artistik yang dimiliki kayu tidak dapat dibandingkan dengan material buatan atau artifisial untuk menggantikan produk kayu asli dan alami.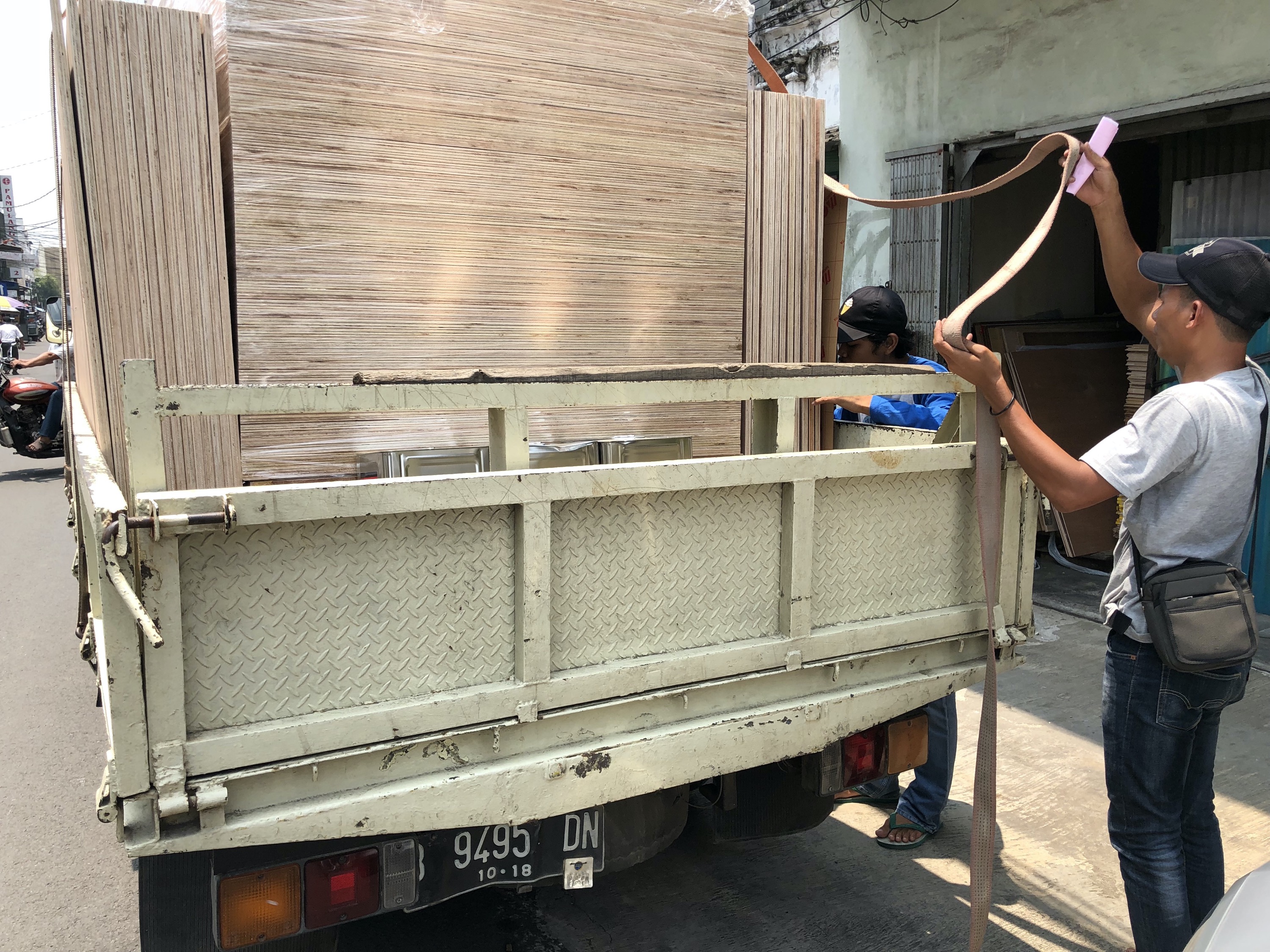 HISTORY
PT. Bintang Sakti Sentosa which was formerly known as PD. Bintang Sakti was established in 1975, providing building materials with Plywood as the main product. The company is steadily growing with headquarter and retail store in Pinangsia, Jakarta. Our warehouse was initially located in Kedoya area, then moved to a bigger warehouse in Kapuk area until 2017. As the company keeps expanding, we needed a bigger space for storing our products, so we decided to move the warehouse to a newly constructed warehouse in Cipondoh, Tangerang, that is much bigger than the warehouse in Kapuk, intended to provide more variety products for our customers and more readiness in terms of product stock. The opening of our new warehouse in 2017 also marks the change of our company name to PT. Bintang Sakti Sentosa. With our reliability and commitment for over 40 years of experience, we are growing to become one of the biggest Plywood distributor in Indonesia and aiming to become the leader in Plywood industry by expanding our channel of distribution throughout Indonesia.
---
SEJARAH
PT. Bintang Sakti Sentosa yang sebelumnya dikenal dengan nama PD. Bintang Sakti didirikan pada tahun 1975, menyediakan material bahan bangunan dengan triplek/multiplek sebagai produk utamanya. Perusahaan kami dengan konsisten selalu bertumbuh dengan kantor pusat dan toko ritel di Pinangsia, Jakarta. Gudang kami awalnya terletak di daerah Kedoya, lalu kami pindah ke gudang yang lebih besar di daerah Kapuk sampai dengan tahun 2017. Seiring dengan berkembangnya perusahaan, kami membutuhkan tempat penyimpanan yang lebih besar lagi. Sehingga kami memutuskan untuk pindah ke gudang yang baru dibangun di daerah Cipondoh, Tangerang, yang memiliki kapasitas yang jauh lebih besar lagi dari gudang sebelumnya dan ditujukan untuk menyediakan lebih banyak lagi variasi produk untuk pelanggan kami dan juga ketersediaan barang yang lebih fleksibel. Pembukaan dari gudang baru kami pada tahun 2017 juga menandakan berubahnya nama perusahaan kami menjadi PT. Bintang Sakti Sentosa. Dengan kehandalan dan komitmen dari pengalaman kami selama hampir 40 tahun, kami bertumbuh menjadi salah satu perusahaan distributor triplek/multiplek terbesar di Indonesia, dan selanjutnya kami memiliki target untuk menjadi pemimpin di industri triplek Indonesia dengan memperbesar channel distribusi kami ke seluruh daerah di Indonesia.